Cobos 4.2 Release Notes
Release 4.2.0 [2019-07-01]
"SCORT Callout Designer" feature: Invoke a Web service from the mainframe!

Import a WSDL (Web Service Descriptor).
Generate COBOL Copybooks used to request and receive information from the Web Service.
Generate Java classes for deployment in a runtime environment.
Deploy artifacts to the mainframe and the web server.
Test the generated code on the Test tab in the SCORT Eclipse Callout Plugin.
"SmartPad4i Designer" feature is now fully integrated in eclipse!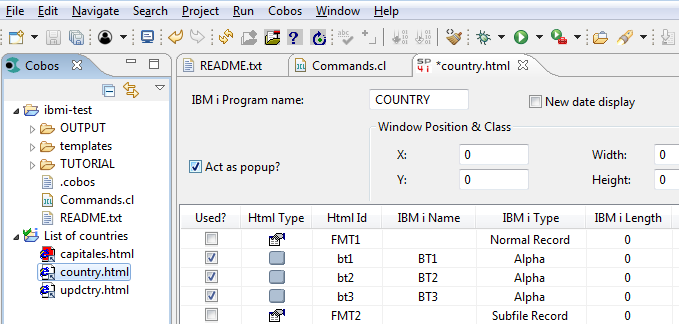 Import existing SP4i projects as eclipse projects.
Open multiple projects, templates at a time.
All desktop functionalities are implemented.
Native eclipse behavior.
All tools in a single IDE (HTML Editor, Web Page Editor, Designer Editor).
Ergonomic enhancements (connection management, deployment view).
Cobos4i FTP4i Access: support of DBCS encoding (beta)
Commands view enhancements:
Parameters are supported for URL commands
Host userid can be used in forms through a variable
Charset of a resource can be displayed in forms
Cobos4z Z/Navigator: support of shortcuts for mainframe member Copy/Paste
This release solves the following bugs:
28355 – Fix cyclic dependencies between COBOL Editor and Cobos
28361 – Warning "Max line length exceeded" remains in Problems view after editor close or Clean action
28403 – Job_status displays a wrong title in debug mode
28547 – COBOL Editor: missing text label in preference Check Syntax panel
28581 – (Mainframe module 3.6.3) Ascending compatibility of checksum codepage
28901 – Fix dialect ibm in GnuCOBOL
28908 – FTP4i Configuration: missing templates folder in project
28991 – FTP4i "Edit File" error in case of incorrect filename